Why Deleaker?
Resource leaks. Even a robust Windows-based application is not safe from them. Of all bugs they are the most difficult to find especially when they appear in graphics device interface (GDI) objects and menus. And as we all know, the earlier you catch bugs, the less expensive they are. Plenty of tools exist to help track down memory leaks. But there are very few good tools to help track GDI resource leaks that can ruin performance on any Windows operating system. Deleaker is one of them and the fact that it almost doesn't slow down your application makes it your natural choice.
Main Features
View list of created objects (GDI / USER / Handles / Memory blocks)
While your application is running, Deleaker provides you with the information on created GDI / USER objects, handles, allocated memory blocks. Ask a question.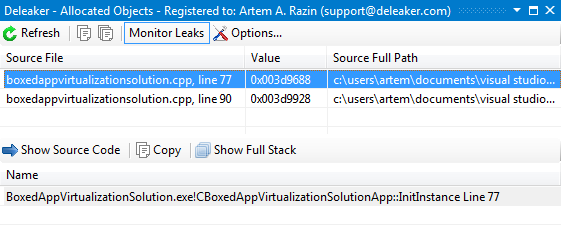 For almost all objects you will get full stack
Deleaker provides you with the information on created objects. For almost all these objects you will get full stack, which helps you to see where each object was created. At this point you are only one step away from detecting where in your source code a certain object was created. Simply double click the stack entry and the editor will open the file with source code at the corresponding line. Ask a question.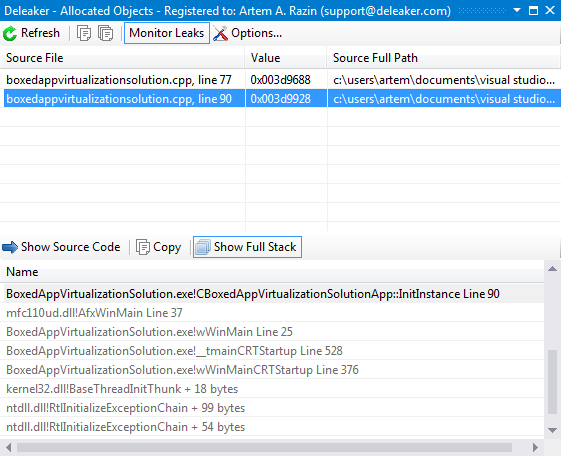 Optionally Deleaker reports about detected leaks
And the most important - when your application exits, Deleaker will notify you of objects that were created but were not deleted and memory blocks that were allocated but were not freed, in other words - it will find resource and memory leaks. Ask a question.